The 2023 Subaru Love Promise Community Commitment Award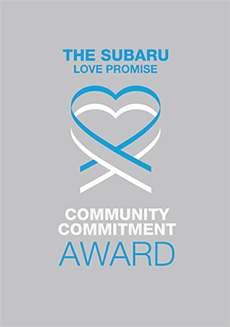 We've been nationally recognized for our dedication to our community and the Subaru Love Promise.
We're honored to receive the 2023 Subaru Love Promise Community Commitment Award. This award nationally recognizes Subaru retailers who are making the world a better place while demonstrating an outstanding commitment to supporting passions and causes in local communities. These efforts are focused in important areas such as the environment, community, health, education, and pets.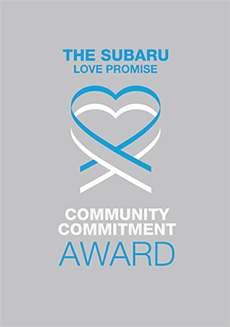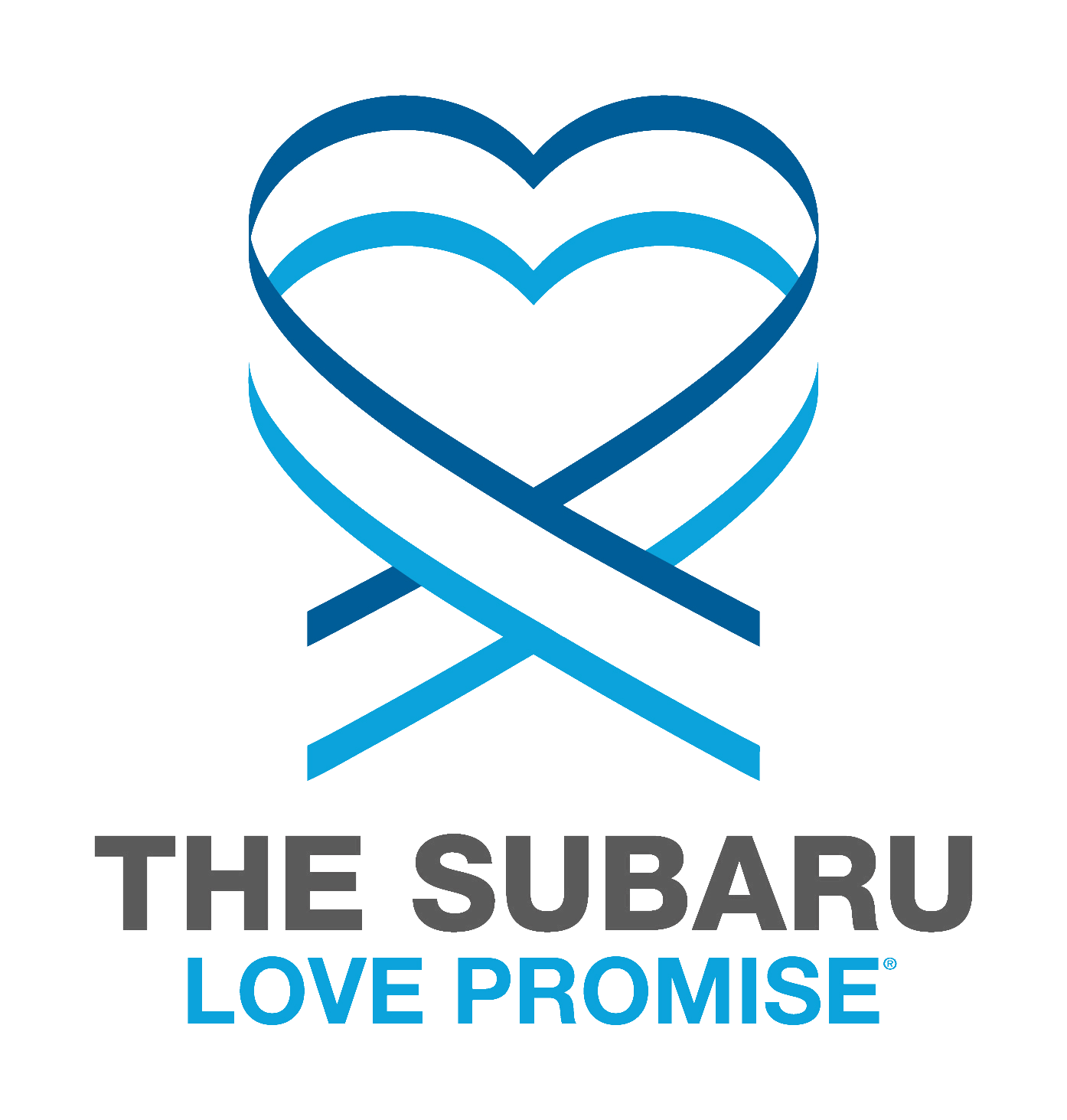 What is the Subaru Love Promise?
Subaru and our retailers believe in making the world a better place and the Subaru Love Promise is our vision of respecting all people. This is our commitment to show love and respect to our customers and to work to make a positive impact in the world.
How is Bill Rapp Subaru of Norwich dedicated locally to the Love Promise?
Our Love Promise can be seen in various partnerships with local charities and non-profits. We're grateful for the opportunity, not only to be a part of our Central New York community, but to serve it as well.
Love Promise Stories from Bill Rapp Subaru of Norwich
Subaru and Bill Rapp Subaru of Norwich believe in making a positive impact on the communities in which we live and work. We uphold that belief through our Love Promise Community Commitment. Every month, we select inspiring stories from customers and partners from around our area who strive to support our collective commitment and feature them here
Gadget - Annette C
Through our partnership with Bill Rapp Subaru we hosted an adoption event throughout the month of October. During the month of October Bill Rapp Subaru and The Chenango SPCA were able to find loving homes for 61 animals. Bill Rapp Subaru also hosted a Stuff the Subaru event and provided us with cleaning supplies and toys for the animals. We surpassed our goal of 44 adoptions and we cannot thank Bill Rapp Subaru for becoming our partner in this event. Our Subaru Love Promise story is about Gadget. Gadget arrived to us on September 7th after being found wandering the streets of the City of Norwich. We posted his photo on seven Facebook animal lost sites in hopes of finding his home, no one came forward. The interesting thing about Gadget being on the streets is that he appears to be totally blind. We scheduled him a visit at Pet Street Station VH with Dr. Sautter. She examined him and did a few tests. Gadget has no signs of glaucoma or cataracts but does appear to be blind. At about seven years of age Gadget seemed to be dealing with his lack of sight very well. We tested Gadget for Lyme's disease and he was positive. Once we began his treatment (daily pills for 30 days) he became a very active and loving dog. Over a month had gone by and still no family for Gadget. Several families had met him but all decided not to adopt. Then a love match happened. He met his new human and her other dogs, all were in love with each other. On October 24th Gadget was officially adopted. As you can see from his photo's he is in the perfect home. Happy beginning for Gadget.
---
Cancer Financial Assistance - Sandy M
Bill Rapp Subaru in Norwich, NY has made it possible for Chenango Health Network (CHN) to help residents of Chenango County diagnosed with cancer to afford treatments and/or the cost of traveling to and from treatments. Our local hospital only offers oncology once a week. Clients must travel at least an hour each way. Gas cards purchased with the donation from Bill Rapp Subaru has been a saving grace for our clients.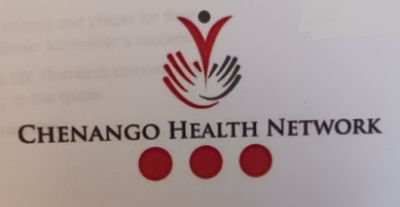 ---
Independent Time Got Revamped for Melville's Science Class! - Amy M
When asked, "what is one thing that would help them focus during independent work," all of Ms. Melville's students responded in the same way.... listening to music. However, Ms. Melville didn't have enough headphones for each student to have their own, leaving some students who didn't have their own headphones to bring to school feeling left out. My classroom was adopted by Bill Rapp Subaru this year through AdoptAClassroom.org and my students are now so thankful that they can get into their own "zone" to complete their work. It also allowed me to assign choice videos for students to watch (and no one has to turn the volume down or turn on closed captions.)
---
Subaru provides safe travel. - Annette C
Froggy and Porky are two kittens who came to the Chenango SPCA at 2 months of age. Both were orange tigers who captured the hearts of the entire staff. A young couple saw their pictures and immediately decided that they needed to meet these two boys. They traveled from Virginia (in their Subaru Forester, with their young child, to visit family in the area) and went home with two additional family members. A love-promise story that proves that distance is no obstacle when adopting an animal and that Subaru's provide the safest travel for both humans and their precious cargo.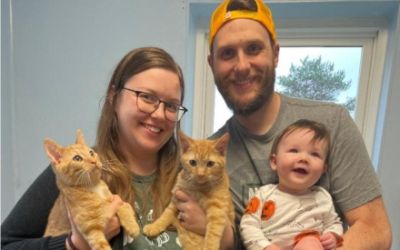 ---
B.R. Subaru of Norwich "Shares the Love" with 4-H - Craig B
Words cannot begin to express how thankful we are to have received the Bill Rapp Subaru of Norwich "Share the Love" award. Times have been especially challenging for our youth since the onset of the COVID-19 pandemic, and we wanted to find new ways to provide them with safe hands-on educational opportunities. Through the pandemic we developed programs that our kids could participate in virtually or in-person, to ensure they retained vital social connections and kindling the joy of further educational exploration. We also ensured that youth helped shaped the programs they participated in, ensuring we incorporated their input and feedback. We wanted our youth to know their voices mattered and that we were there for them. With the growing costs of operating during the pandemic, our county like many others was forced to implement a 10% reduction to non-profit programming budgets. This added more challenges to an already difficult time, and our youth couldn't afford to lose any more opportunities with them already facing so many other obstacles at home and in school. We continued to deliver weekly programming for kids, to provide hands-on fun educational kits to community partners, and to ensure our youth felt the love and support they deserved. We wanted to ensure we could provide exciting new opportunities for kids and be there when they needed us most. That's when Bill Rapp Subaru of Norwich "Shared the Love" with us! Bill Rapp Subaru of Norwich provided us with nearly $4,000 to create several new youth programs that will inspire and educate our Chenango County kids. Funds that allow us to provide opportunities for youth both in-school and out, and to make our lessons unforgettable. For example, it is one thing to learn about how seeds grow, it is another thing entirely to go home with a germinated garden. As part of our newest initiative, we are working to connect our students to the benefits of agriculture and the local food systems that surround them. We want our youth to know where their food comes from and to see the countless opportunities available in agricultural industries. Currently in development are clinics designed for youth interested in learning how to raise and care for poultry, rabbits, goats, and sheep, PLUS a certified tractor and machinery safety course! Several collaborative educational programs with the SNAP-Ed and Grow, Cook, Serve programs are also being offered monthly. These innovative lessons show how food makes its way to our forks, while additionally covering the benefits of eating healthy and exercising. Lastly, as we look toward the 2021/2022 academic year, we aim to connect our elementary-age youth to agriculture-based education. Using the NYS Ag in the Classroom Matrix, we intend to deliver hands-on lessons directly to the clubs and classrooms across our local community. Bill Rapp Subaru of Norwich directly helped make this possible, and we could not be any more thankful! We have truly felt the love.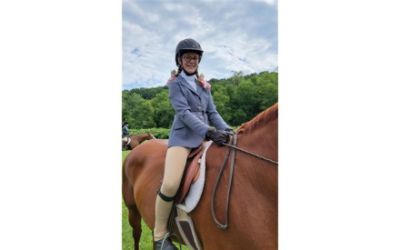 ---